Electrohive
From Tanki Online Wiki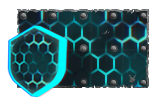 Description
Specially trained electronic bees took part in the construction of this paint, working on a vivid neon honey that they put into neon hive cells. And the taste is spectacular!
Price
59.90 USD
Interesting Facts
Electrohive was part of a special Shop bundle available during the 2018 Tanker's Day celebrations.
This paint was added into the game on 8th September 2018, as part of the 2018 Tankers Day celebrations. Simultaneously it was added to Containers permanently.
Appearance