eSports Server
From Tanki Online Wiki

Did you know that...


The eSports server is a special stand-alone server that is used for SLTV StarSeries matches. Access to it is restricted to Cybersport staff and players in StarLadder teams which are participating in Star Series. Currently the server has been closed as StarLadder tournaments are no longer held.
The eSports server appeared in May 2014 with the launch of the first season of SLTV Star Series. A separate server was required for the tournament as a smaller number of players on the server means stability is increased and there will be fewer game lags due to a lack of excessive load. It was also needed for special broadcasts, so that the game statistics and graphics could be implemented.

Differences between eSports server and normal servers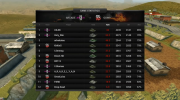 The interface is only in English;
The battle statistics' interface has a completely different design from that on the main servers - it is enhanced and contains more details (such as a picture of the currently equipped tank of the player and their clan logo) to improve live broadcasts.
No matter what one's rank is on the official server, one's rank on the eSports server is Generalissimo.
The only maps on the server are those from the official list of permitted maps under the rules of the tournament (Barda, Kungur, Bridges, Parma, Sandbox, Red Alert, Forest and Tribute), and these maps are only available in CTF mode.
In addition, maps have added large non-gaming areas around the edges which blend into the skybox to make the scenery more attractive in broadcasts.
All permitted turrets, hulls, and paints in SL matches are already purchased, namely -
A PRO pass can be purchased for a period of one year.
Apart from the above items, nothing else can be found in the garage.
Repair Kit drop boxes are disabled.
Smoky's critical hit is disabled.
Micro-upgrades are disabled.
The Gold Box chance is reduced to 1/10000000000 (0.00000001%).

The paint Savanna was once permitted for StarSeries matches, however due to a rise in a "5 Hunters per team" setup in Season 3, the ability to use Savanna was removed on February 25th 2015.