From Tanki Online Wiki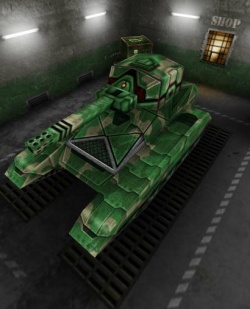 Dictator-Railgun, or simply Dic-Rail is an official battle format consisting of the Dictator hull and the Railgun turret.

Long ago, Dic-Rail was the only official format for tournaments and competitions but was later replaced by 740 - a more unique and progressive format that began to grow more popular with each passing moment. After Update 114, the format began to disappear from both normal and Pro Battles and eventually was overthrown from its long-lasting reign by the new XP and BP formats by a large margin. Currently, rare battles on this format are only hosted by thematic clubs and duels.

On October 20, 2016, the official Dictator-Railgun format was introduced into the game. However, it did not receive a positive response from players.

It was believed that battles in this format develop new skills and game sense for both newcomers and professionals of eSports, largely unaccustomed by the more usual formats.