Designers Team
From Tanki Online Wiki
Designers Team Administrators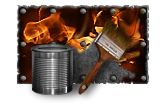 Designers Team admins perform the same functions as Designers Team members, but are empowered with greater authority. Also, if you want to make a complaint about a Designers members' work, you should send it to an admin.

In the list of the Forum Members their names are highlighted in saddle brown.
Designers Team Members

| | |
| --- | --- |
| | The Designers' Team is a well-built group of talented minds, who strive to maintain a high order of creativity among the English Community. Their responsibility is to spice up the visual design of projects, threads, and content that is published throughout the official platforms, and who are in charge of creating new and original artworks for the community. |
Designers Team Candidates
| | |
| --- | --- |
| | The users who decided to try out as Designers themselves. After passing a trial period and receiving positive reviews of their work, they will become full members of the Designers Team. |
Group Members
To apply for the Designers Team, carefully read the conditions and fill out the form attached with them.