Demolisher
From Tanki Online Wiki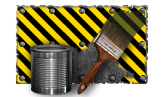 Description
Buy this temporary paint to take part in the "Destructive War", where you have to protect the tank world from the evil corporation AZAZACORP.
Rarity
✹ Special
Interesting Facts
The paint was created as part of the Demolition War event and was removed from the players' garages after it ended.
The paint could be obtained forever by completing the special mission "Demolition War" in the period from August 2 to 29, 2019.
Appearance