From Tanki Online Wiki
Dead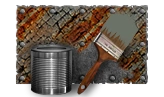 | | | |
| --- | --- | --- |
| Type | | Event paint |
| Rarity | | ▨ Special |
Availability
| | | |
| --- | --- | --- |
| Available from | | Recruit |
| Currently obtainable | | No |
| Found in Containers | | No |
| Purchasable in Garage | | No |
Description in Garage
A regular, non-animated paint that serves as an aesthetic coating for your tank. Its color scheme might potentially offer some camouflage benefits, but besides that, the paint does not offer any functional gameplay advantages.
Dead is a paint in Tanki Online.

Interesting facts
This paint first appeared on October 27th, 2020.
A mysterious player by the name of Deadmode_ON appeared in the game wearing this paint 4 days before Halloween.
The mysterious player had a special spectrum module named "Lord" with 50% protection from all turrets and mines.
This paint was used by the game assistants, on special accounts during Tanki Online's Halloween "Attack on the Dead" event on October 31st and November 1st, 2020.
This was a temporary paint. It was removed from all garages after the event was over.
Appearance