Cryo
From Tanki Online Wiki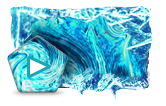 Description
This coating was originally intended to protect against the effects of Firebird by using a periodic cooling mechanism. Unfortunately, when actually tested in a real battle, the mechanism malfunctioned and kept freezing the tank every few seconds, turning it into a very cold sitting duck. That said, the paint still looks cool, so its creators decided to dump the cooling mechanism and keep the paint exclusively for cosmetic purposes.
Price

€22.49

Rarity

✹ Legendary
Available From
Interesting Facts
This paint was part of a special Cryo Bundle which also contained a Snow shot effect for Freeze.
The Cryo Bundle was only available for 14 days, from Tuesday 29th January 2019 until Tuesday 12th February 2019; or when the stock sold out.
Appearance