From Tanki Online Wiki
Cryo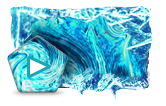 | | | |
| --- | --- | --- |
| Type | | Bundle paint |
| Rarity | | ▨ Special |
Availability
| | | |
| --- | --- | --- |
| Available from | | Recruit |
| Currently obtainable | | No |
| Found in Containers | | No |
| Purchasable in Garage | | No |
Description in Garage
This coating was originally intended to protect against the effects of Firebird by using a periodic cooling mechanism. Unfortunately, when actually tested in a real battle, the mechanism malfunctioned and kept freezing the tank every few seconds, turning it into a very cold sitting duck. That said, the paint still looks cool, so its creators decided to dump the cooling mechanism and keep the paint exclusively for cosmetic purposes.
Cryo is an animated paint in Tanki Online. It could have been purchased from the Shop for 799 RUB.

Interesting facts
This paint was part of a special Cryo Bundle which also contained a Snow shot effect for Freeze.
The Cryo Bundle was only available for 14 days, from Tuesday 29th January 2019 until Tuesday 12th February 2019; or when the stock sold out.
Only 4000 sets were available for purchase. The rarest animated paint "Cryo" was sold only as part of this promotion and will remain in the garages of only 4000 tankers who have already bought the kit.
Legend has it that one tanker, with their main account 3999 alternate accounts, owns all 4000 copies of the Cryo paint.
Legend also has it that I made that up, but it's not like I'm going to just tell you that
Appearance