Chocolatank
From Tanki Online Wiki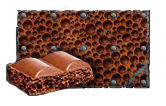 Description
Easter is so much sweeter with chocolate. Now, you can carry it with you into the battlefield with this chocolate-themed paint for your tank. Warning: with this paint, your tank will look delicious, but will still be pretty hard - biting it will likely result in loss of teeth.
Rarity
✹ Special
Available From

Recruit
Interesting Facts
Paint appeared on March 27, 2016.
This paint accompanied the Easter celebrations on the Brazilian servers.
Appearance