Changing equipment in battle
From Tanki Online Wiki
Brief guide to changing equipment
- During a battle, click the "Garage" button, or press the "G" key on the keyboard;
- Find the new items you want to equip and select them;
- Return to the battle by pressing Esc, or by clicking the "back" arrow in the upper right corner, or by clicking the "Garage" button.


Attention: If you stay in the garage for too long, the system will warn you that your pause time is nearly over. It will then ask you whether you wish to return to the battle or remain in the garage for a longer period. If you do not return to the battle before the end of the countdown, you will be removed from it.


Video guide:

The media player is loading...
Key Features
- You can change your equipment anytime you wish, without leaving the battle.
- Under new game rules, you can equip an entirely new tank every 5 minutes during a battle.
- You can go to the battle list, look for battles where your friends are involved, and if nothing attracts you, return to your current battle.
- You can buy consumables, hulls, turrets and paints.
- You can buy crystals through the payment section of the game.
- When the battle is over the "change equipment timer" will be reset.
- If at the conclusion of the battle you were in the garage or viewing the battle list, you will see a message informing you that the battle has ended, as well as your battle ranking and amount of crystals received from the battle fund.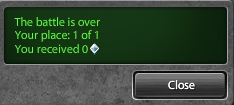 - When creating a PRO battle you will be able to disable the "change equipment" option.


Battle without the ability of changing equipment

In a battle which does not allow changing of equipment:

- A player can buy and/or Micro-upgrade anything, but these changes won't be applied during the current battle;
- If a player buys a kit that includes a better version of his current equipment, then the better version is equipped in the battle. E.g. If you're playing M0 Freeze and M0 Wasp, and you buy a kit that includes an M1 Wasp, you will return to the battle with the M1 Wasp equipped.

How to leave the battle?
There are several ways to leave a battle:

- Press the Esc key, then confirm by selecting "Yes" or pressing the Enter key;
- Go to the battle list and select a battle in which you are not playing, then click on "Leave battle" and confirm your selection;


- Click on

in the upper right corner and confirm your decision.


If you are going to close the browser, always leave the battle first. Just closing the browser cuts your connection to the Tanki servers off. If this happens, your tank will keep taking up a space in the battle, preventing other tankers from joining.