From Tanki Online Wiki
Chainmail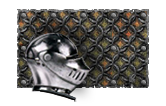 | | | |
| --- | --- | --- |
| Type | | Garage paint |
| Price in Garage | | 35 000 |
| Rarity | | ▨ Rare |
Availability
| | | |
| --- | --- | --- |
| Available from | | Recruit |
| Currently obtainable | | Yes |
| Found in Containers | | Yes |
| Purchasable in Garage | | Yes |
Description in Garage
A unique, stylized chainmail cover developed for the purpose of medieval-themed tank battles. Of course, whether tanks existed in the middle ages, and whether they actually wore chainmail armor, is a different matter altogether.
Chainmail is a paint in Tanki Online. It can be purchased from the rank of

Recruit in the Garage for 35 000 crystals or obtained randomly by opening a Container.

Interesting facts
Paint first appeared on January 30, 2015.
On the 10th of April 2020, Chainmail's unlock rank was lowered from Master Corporal to Recruit.
Legacy paint description:
A paint that provides moderate protection against Hammer, Isida and Railgun, Will help in fights at any distance. Gives your tank the look of a knight in chainmail armor.
Appearance