Bunny
From Tanki Online Wiki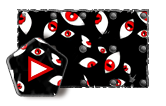 Description
This paint grants the owner the ability to notice even the tiniest details, and not even the smallest Wasp-o-Smoky will hide from its piercing eyes. Use it for intended purposes only, and nobody will come even close to you.
Price
59.90 USD
Interesting Facts
Bunny was part of a special bundle in the Shop available during the 2018 Halloween celebrations.
This paint was added into the game on October 30th, 2018; and was available until 5th November, as part of the 2018 Halloween celebrations. Simultaneously it was added to containers permanently.
Appearance