From Tanki Online Wiki
Blacksmith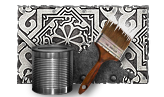 | | | |
| --- | --- | --- |
| Type | | Garage paint |
| Price in Garage | | 225 000 |
| Rarity | | ▨ Rare |
Availability
| | | |
| --- | --- | --- |
| Available from | | Recruit |
| Currently obtainable | | Yes |
| Found in Containers | | Yes |
| Purchasable in Garage | | Yes |
Description in Garage
A tribute to the master craftsmen who shape steel into works of deadly art in the blistering heat of the forge.
Blacksmith is a paint in Tanki Online. It can be purchased from the rank of

Recruit in the Garage for 225 000 crystals or obtained randomly by opening a Container.

Interesting facts
Paint first appeared on February 6, 2015.
Prior to the Paint Separation Update, Blacksmith was worth 90,500 crystals and could be bought from Major.
On the 10th of April 2020, Blacksmith's unlock rank was lowered from Sergeant-Major to Recruit.
Legacy paint description:
A paint offering considerable protection against Vulcan, Shaft and Railgun. Will really help in long-range skirmishes. With it, your tank will look like the work of a skilled smith.
Appearance