Best Artworks of the Month
From Tanki Online Wiki

«

Greetings, tankers, and artists.

We want to see your talent in creating artworks about Tanki and award you with some crystals for the work you put in this contest.

»
— Forum topic for the contest

Best artworks of the month is a simple 'best artwork' contest. To participate in the contest, players have to create an artwork, any kind of art, out of 4 provided screenshots. The hashtag #Artworks_Contest and your nickname has to be added somewhere within the picture. The image then has to uploaded to Imgur (an image hosting site) and posted as a reply to the official forum topic. On the last day of the month, the contest will close for the time being as the entries within the forum topic will be judged by members of the Creative League. The following day, the contest will be opened again, the new screenshots will be posted, and the winners for the previous month will be published in the Contests section of the forum.

For more information, please visit the official forum topic.

How to participate
Pick a screenshot from among the 4 provided screenshots in the forum topic.
Create a piece of art from it. You can use Photoshop or any other equivalent picture-editing software. Don't forget the #Artworks_Contest hashtag and your in-game nickname that has to be written somewhere within the art.
Upload your design to the image hosting site Imgur.
After you upload the artwork to Imgur then you have to do these basic steps: right-click on the artwork (in Imgur) and choose "Copy Image" from the options menu, then go to the forum topic for the contest and press on "Reply to this topic". Now you only have to right-click inside the reply box and choose "Paste" from the options menu. Then press "post" to reply to the topic and submit your entry. You don't have to type your nickname inside your entry box. As long as everyone can see who posted the reply.
Video Guide - How to participate in this contest
Prizes
1st Place:

85 000 crystals + 5 days of premium account;

2nd Place:

65 000 crystals + 3 days of premium account;

3rd Place:

50 000 crystals + 2 days of premium account;
Other worthy entries that didn't get a spot within the top 3 will be rewarded with 40 000 crystals + 1 day of premium account.
Winners
All of these topics can be found in the Contest and Creative League archives on the forum. The winners for this monthly contest are published on the first day of every month.
Gallery of Best Entries
Below is a gallery preserving some of the best entries from among the contest's submissions. To move between images, click on the right / left arrow to view the next / previous image.

Click on Pictures at the top right corner of the gallery to view a list of thumbnails.
To view a specific image while scrolling the thumbnails, click the center of the thumbnail-image itself.

JavaScript is required to view this gallery properly.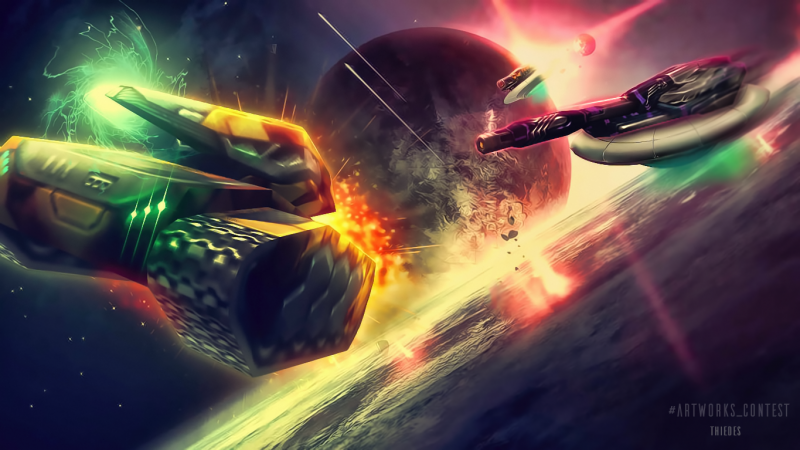 Interesting Facts
The contest was officially launched under this name on the 1st of April, 2018.