From Tanki Online Wiki
Beholder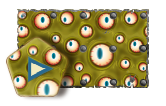 | | | |
| --- | --- | --- |
| Type | | Container paint |
| Rarity | | ▨ Legendary |
Availability
| | | |
| --- | --- | --- |
| Available from | | Recruit |
| Currently obtainable | | Yes |
| Found in Containers | | Yes |
| Purchasable in Garage | | No |
Description in Garage
This paint was inspired by nightmares from the designer's childhood after seeing a very disturbing monster in an old computer game.
Beholder is an animated paint in Tanki Online. It can be obtained randomly by opening a Container.

Interesting facts
This paint was available in the Shop as part of a special package during the UFO Day 2018 celebrations.
After buying this bundle, the paint stays in the garage forever.
This paint was added to containers on February 5th, 2021.
It's rumored that if all the eyes look at you at once, they can see into your soul. Most who experience such a piercing gaze and don't live to tell the tale - and those who do are never quite the same.
Appearance