From Tanki Online Wiki
Alligator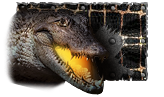 | | | |
| --- | --- | --- |
| Type | | Helper paint |
| Rarity | | ▨ Special |
Availability
| | | |
| --- | --- | --- |
| Available from | | Recruit |
| Currently obtainable | | Yes |
| Found in Containers | | No |
| Purchasable in Garage | | No |
Description in Garage
An exclusive paint for chat moderators called Alligator is a result of a successful experiment of crossbreeding Black African alligators with carbon steel plates. This paint scared the researchers so much that they decided to show it only to law enforcers. Those who risk their lives every day for the wellbeing of others are hard to surprise with anything, and they have forgotten the word "Fear" long ago.
Alligator is a paint in Tanki Online. It is issued to Chat moderators & Battle moderators. Players who leave the position will lose the paint.

Interesting facts
Paint appeared on August 18, 2011.
The creator of the paint is T.RexChaos.
Appearance