Alien Abduction
From Tanki Online Wiki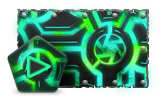 Description
After having been abducted by aliens, a patient began to draw peculiar designs. Every day the design was new, but the colors and style were the same. In an attempt to understand the phenomenon, scientists turned these designs into an animation.
Was this an abduction, or just inspiration? We'll never know.
Price

59.90 USD

Rarity

Legendary
Available From

Recruit
Interesting Facts
The paint was available for purchase in the April bundle for 59.90 USD. April 12-15, 2019.
Paint can also be obtained from the container.
Appearance