From Tanki Online Wiki
Alien Skin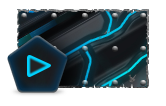 | | | |
| --- | --- | --- |
| Type | | Container paint |
| Rarity | | ▨ Legendary |
Availability
| | | |
| --- | --- | --- |
| Available from | | Recruit |
| Currently obtainable | | Yes |
| Found in Containers | | Yes |
| Purchasable in Garage | | No |
Description in Garage
Straight out of Tanki Online's secret bunker in the quiet town of Chernushka, Russia, this paint was developed from skin graft samples extracted from an alien. It is said that the alien used mind control powers to manipulate its way into Tanki Online's office. Now it works there as an employee. It is virtually indistinguishable from a regular human being. It's only striking characteristic is its shaved head, which acts as a solar panel.
Alien Skin is an animated paint in Tanki Online. It can be obtained randomly by opening a Container.

Interesting facts
The paint was available for purchase in a kit dedicated to the celebration of UFO Day, for 22.91 USD. July 2-8, 2019.
This paint was added to containers on February 5th, 2021.
Some scientists claim that this is actually the lining of an alien's lower intestine rather than their skin, but honestly it's hard to tell the difference just by looking.
Appearance