From Tanki Online Wiki
Alien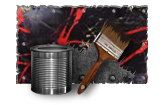 | | | |
| --- | --- | --- |
| Type | | Garage paint |
| Price in Garage | | 150 000 |
| Rarity | | ▨ Rare |
Availability
| | | |
| --- | --- | --- |
| Available from | | Recruit |
| Currently obtainable | | Yes |
| Found in Containers | | Yes |
| Purchasable in Garage | | Yes |
Description in Garage
Rumor has it that this camouflage is a replica of the cover of an alien ship that was knocked down in the last century by the forces of <WARNING: This information is classified — Further inquiries on the matter will be met with deadly force.>

Alien is a paint in Tanki Online. It can be purchased from the rank of

Recruit in the Garage for 150 000 crystals or obtained randomly by opening a Container.

Interesting facts
On the 10th of April 2020, Alien's unlock rank was lowered from First Sergeant to Recruit.
This paint can also be currently obtainable from the "Lucifer" showcase bundle.
Legacy paint description:
A paint that protects from Isida beans and slightly reduces the damage inflicted by Thunder and Freeze. Useful in short to mid range battles. Has a dark black/red texture.
Appearance