From Tanki Online Wiki
Africa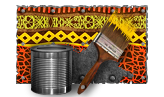 | | | |
| --- | --- | --- |
| Type | | Garage paint |
| Price in Garage | | 400 000 |
| Rarity | | ▨ Rare |
Availability
| | | |
| --- | --- | --- |
| Available from | | Recruit |
| Currently obtainable | | Yes |
| Found in Containers | | Yes |
| Purchasable in Garage | | Yes |
Description in Garage
This paint features traditional African patterns used by African shamans with the belief that it can protect tanks from harm.
Africa is a paint in Tanki Online. It can be purchased from the rank of

Recruit in the Garage for 400 000 crystals or obtained randomly by opening a Container.

Interesting facts
Paint first appeared on February 6, 2015.
Prior to the Paint Separation Update, Africa was worth 300,000 crystals and could be bought from Generalissimo.
The paint used to have protection from Twins, Thunder, Hammer, and Vulcan.
On the 10th of April 2020, Africa's unlock rank was lowered from Warrant Officer 1 to Recruit.
Legacy paint description:
An all-rounder paint with excellent protection from Hammer, Twins, Vulcan and Thunder. Will make your tank a dangerous opponent at medium ranges. Covers your battle machine in a traditional African pattern.
Appearance