Aero
From Tanki Online Wiki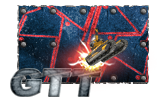 Description
This unique paint job was designed exclusively for members of the "German Tanki Tutorials" parkour team. These guys not only perform various tricks on their tanks, but also produce excellent video guides.
You can find out more about the team here.
Rarity
✹ Special
Interesting Facts
This paint was created exclusively for members of the German Tanki Tutorials parkour club. The only way to obtain Aero is to become a member of this club.
Appearance