From Tanki Online Wiki
Acid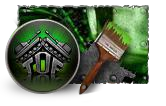 | | | |
| --- | --- | --- |
| Type | | eSports paint |
| Rarity | | ▨ Special |
Availability
| | | |
| --- | --- | --- |
| Available from | | Recruit |
| Currently obtainable | | Yes |
| Found in Containers | | No |
| Purchasable in Garage | | No |
Description in Garage
The main component of this elite paint is venereal acid fog that consists of small droplets of sulfuric acid. It's really expensive to extract and transport this component to Earth so you can't find Acid on the market. But those who manage to get a hold of it will be invulnerable to all natural disasters.
Acid is a paint in Tanki Online. It is awarded to the winners of certain eSports activities.

Interesting facts
Players who receive this paint will also receive a unique Spectrum B module with 20% protection against all turrets and mines.
The paint was released in June 2011 and initially had the protection of 15% against all turrets.
The creator of this paint is Mikle777.
Previously, Gladiator was given to the winners of the Tanki Online Fighting (TOF) tournaments.
By the summer of 2012, Gladiator gained the protection of 20% against all turrets.
From November 21, 2013 (Update #193), Gladiator's protection changed again to 18% against all turrets.
Following the winter season of the Top League, 2013-2014, the top eight clans received the paint.
At the transition of e-sports competitions to StarLadder, the paint was given for 4-8 places in the Star Series.
With the release of new protective paints on January 29 and February 6, 2015, the paint acquired protection from Hammer, Vulcan, and mines.
In July 2015, the paint was issued for the first place in the tournament SLTV Hardstyle.
Paint was also owned by three prize-winners of Tanks in the city.
On July 14, 2016, the paint lost its protections due to the Paint Separation Update.
Appearance